Germany, Greece and the EU
:
Europe isn't that German
What kind of a Europe do we want? Surely one that values solidarity. The German course of austerity therapy has failed. It is time to correct the mistakes.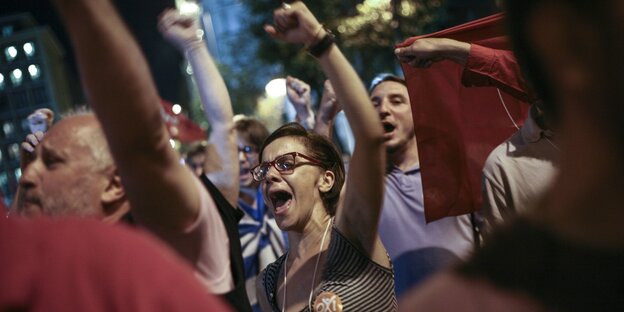 BERLIN taz | "Politics begins with the contemplation of reality." Since the Greek 'no' there have been so many lies flying around the German political landscape that one wants remind the top-ranking German politicians and leading spin doctors of that famous quote by Social Democrat Kurt Schumacher. Ah yes, reality. It is currently being negated by many, and unscrupulously reinterpreted by others. So much so that the prejudice within the German discourse could gain the upper hand. That, however, must not be allowed.
The result of the Greek referendum is not, as the Bild-Zeitung imagines it, a simple rejection of the euro. With his policies, Prime Minister Alexis Tsipras has not "burnt the last bridges" towards compromise as SPD leader Sigmar Gabriel maintains, nor has Tsipras' government lit a wildfire in Europe, as CSU General Secretary Andreas Scheuer claimed, before he went on to rail against "leftist wrong-way drivers", "blackmailers" and "deceivers of the people".
Reality? You must be joking. This is what propaganda looks like – instrumentalising reality to one's own ends. That kind of incitement has nothing to do with rationality, let alone respect for other cultures or democratic conventions.
The question on the ballot papers was precisely formulated; it referred to the most recent austerity measures offered by the EU institutions – and nothing more. At the same time, surveys showed that a large majority of Greeks want to stay in the eurozone. In real terms: around 60 percent of all Greeks, in particular many young people, are calling for a stop to the brutal austerity measures. Some 40 percent of all citizens would even be prepared to accept further hardships, despite rampant poverty.
Dieser Beitrag ist die Übersetzung eines Essays von Ulrich Schulte zum griechischen Referendum. Deutschsprachige Version.
The debt-ridden country is therefore not as torn as it would appear. The Greek 'no' is in fact a committed 'yes'. The majority want a Europe of solidarity, one that joins forces for the weak and leaves nobody behind. A Europe that does not cowtow to the euro, the stock exchange and the market, but one that champions the primacy of politics, fellowship and integration. To ask the careful question: don't we all want that? Moreover, isn't such a vision of a bountiful alliance worth a couple of billion euros?
In essence apolitical
Those who interpret this complex, conflicted situation as a vote for leaving the euro are acting irresponsibly – and in essence apolitically. One has grown accustomed to the CSU top dogs' dulled reactions to anything happening beyond the Bavarian border, as if they had poured five Weißbier down their gullets at breakfast time.
However, it is apalling to see the SPD chairman stoop to courting prejudice in order to clutch at percentage points. In the matter of the Greek question, the German Social Democrats have denied their very essence which, despite Agenda 2010, should have something to do with social warmth and international solidarity. Whether Sigmar Gabriel's right-leaning approach can still win points with fearful voters remains to be seen.
That the damage done to the party image will remain is clear. However, given the drama of the process, one could almost begin to no longer care about the SPD again. What kind of strange understanding of democracy is this anyway – to label a referendum on harsh austerity measures a trick, or an attempt to blackmail the EU? Chancellor Angela Merkel, Gabriel and the CSU leaders are otherwise constantly lauding the idea that the people must be allowed to speak their voice strongly. It is precisely in such European questions that more participation is drastically needed.
Rituals laid bare
Many harbour the prejudice that Brussels is a bureaucracy-obsessed Moloch, wholly detached from everyday life. When the government of an EU state allows its citizens to vote though, the same parties act as if it were a coup against the European idea. To actually implement direct democracy – what are these cheeky devils thinking?!
The Greek 'no' is in fact a committed 'yes'
The charming thing about the at times aimlessly wandering Syriza government is that it lays well-practiced rituals bare. With the referendum, Tsipras broke with prevailing EU logic. The troika had always negotiated on restrictions with only a few of those involved in the governments – at the exclusion of the parliament, not in sought-after backroom deals, and with criteria that almost nobody understood.
The pressure that they exerted, the lack of reality in some of their austerity plans and the leverage enacted on parliamentary rights only came to broad public knowledge with the Greek crisis. One must be grateful to Tsipras' left-wing government for this act of transparency.
Behind the plumes of the smoke grenades being thrown by all those involved, what is being missed is that two policy approaches are colliding. The EU institutions, the German government and the other EU member states are adhering to the dictum that in order for an economy to grow, its markets need only be set up liberally enough. Tsipras and Co. are pushing for a Keynesian investment policy, and debt relief.
Misguided austerity dictum
Many hard facts now suggest that Germany's approach to Greece is not working. In recent years, Greece has cut its budgets by more than 30 percent. Its economy has shrunk by almost a third, unemployment has shot up to 27 percent. With a deep recession and excessive debt occuring side by side, the German chancellor must have long since realised that her austerity dictum is misguided.
The consideration of reality, however, has certainly not begun within the SPD – its chairman preferring to grumble that German workers' incomes would be jeopardised by a permanently subsidised Greece. That's true, but it is too simple. Gabriel neglects to mention that an exit from the euro – the notorious Grexit – would be even more expensive. Germany would have to immediately write off sums in the high-double-digit billions, and Europe would create a poorhouse on its doorstep.
The worst, though, would be the disintegration that that would signal. Europe would no longer be a strong economy, upholding fundamental common values, but rather a power team geared for a competition in which underachievers are mercilessly left behind. Granted, it is understandable that Europe's political elites are vexed by the behavior of the newcomers from Athens. Tsipras and his finance minister have used every opportunity to discredit themselves.
Anger, resentment and frustration are simply not political categories.
It is simply not very helpful when the negotiating parties make accusations of criminality and terrorism. Similarly, it is incomprehensible why a leftist government would resist cuts to their inflated military budget for so long. The nationalistic connotations in the pathos which Tsipras confers upon his own work are also pretty hard to bear.
But anger, resentment and frustration are simply not political categories. They lead nowhere. Good politics are characterised by the fact that they do not yield to emotional temptations. The German federal government would be well advised to seek out the rational core and reevaluate, again and again. Particularly as the Germans are very powerful players in this poker game, and the Greeks very weak ones. Those in positions of power who kick those below them always come across as vile. Gabriel and Scheuer ought not to forget that.
By contrast, the rationality of Tsipras' actions has been downright impressive. By replacing his finance minister he removed the most provocative player from the game. The other EU ministers would no longer have even sat at the same table as Yanis Varoufakis, with his successor they will have to. With simple matters of staff, Tsipras demonstrates his bargaining skills, placing the EU institutions in a tight position – and the European Union?
Europe isn't that German
In the face of this situation the other EU countries, Germany in particular, cannot permit themselves to persist with their face-saving posturing. Taking democracy seriously means offering Greece new negotiations. The German chancellor is reputedly able to learn quickly. That was always her greatest strength when it came to nuclear power, the minimum wage or family policy.
So far Angela Merkel has attempted to solve the European crisis in a very German manner. She has set everything on the peculiar and, for the vast majority of peoples, entirely incomprehensible ideology that tough austerity is a national economic panacea. She favours infinitesimally small steps and dogged negotiating, as in the case between employers and industrial union IG Metall. She is also confident that the weakest will emerge from such struggles in the lead. Europe isn't that German.
As ironic as it sounds, with their 'no' to austerity the Greeks have given Merkel the chance to correct her mistakes. Helmut Kohl, who still stood for the true idea of Europe, would have most likely signed off on Greek debt relief years ago.
Translation: Hans Kellett